Now that you've selected the Fixed Price sale method, you'll be setting the price for the NFTs, and scheduling the drop. You can also add a presale to your drop. Once you complete these steps, anyone will be able to mint up to 10 NFTs from your collection if you start your drop immediately, or at a future date and time.

What you'll need
A price for the NFTs in your drop

A start date and time
Set a mint price
Enter the price per NFT. This price will also be effective for your presale, if applicable. Once your mint price is set, it cannot be changed.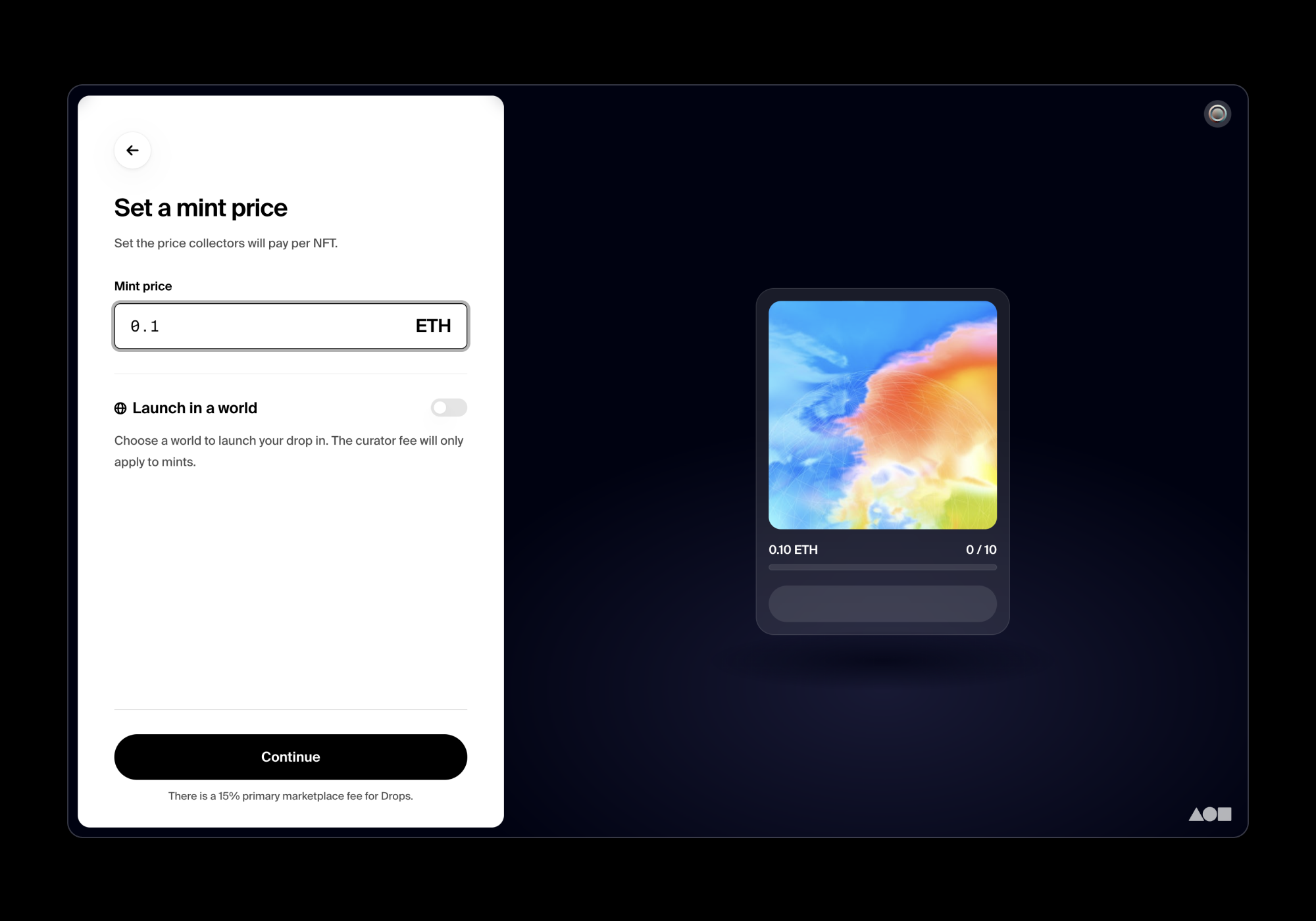 Add your drop to a world
If you've been invited as a seller in a world, you can launch your drop in a world. Once a drop is added to a world, the curator will collect a percentage of the price each time when an NFT is minted from your drop. This curator fee does not apply to secondary sales of your drop.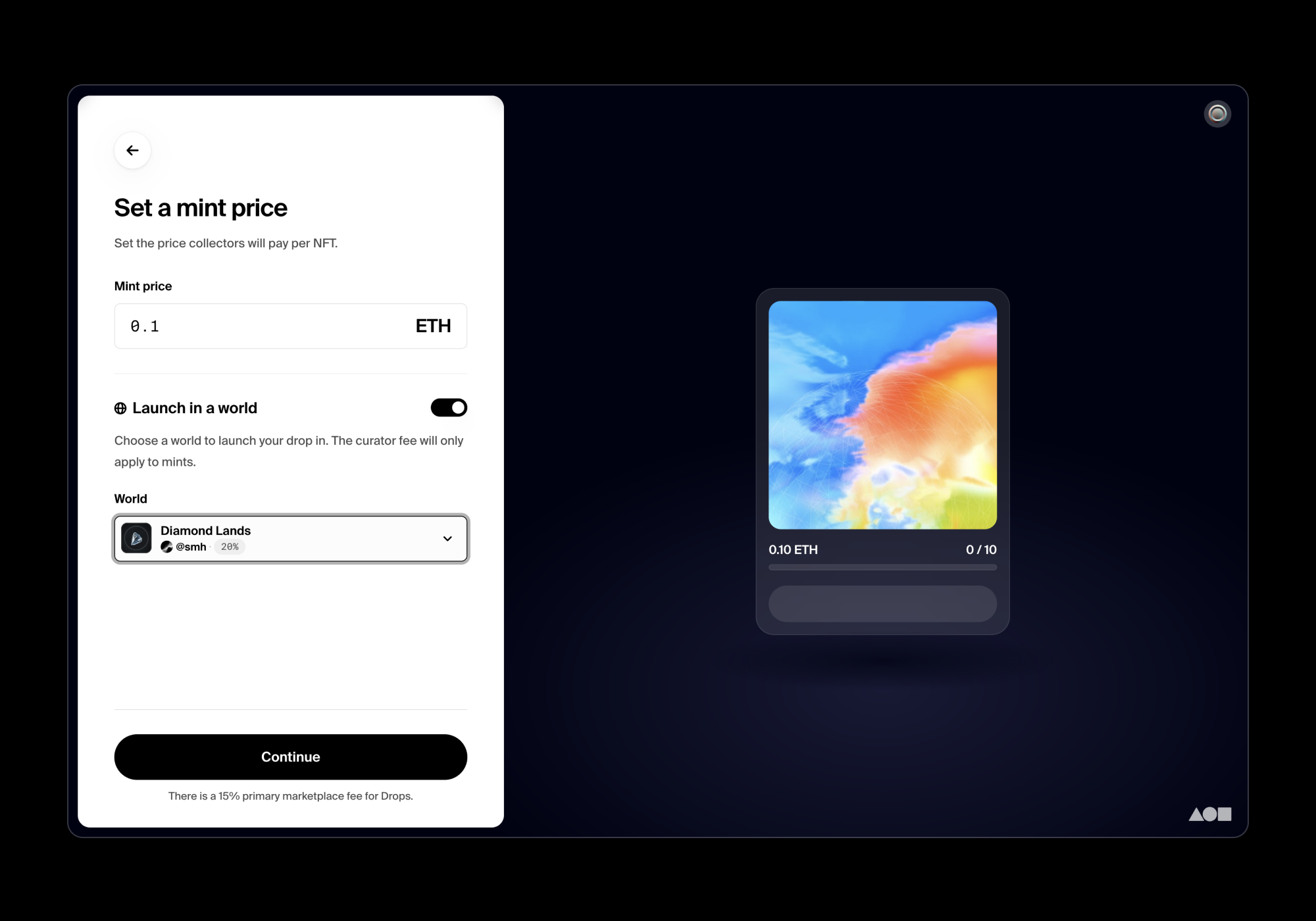 To launch your drop in a world, simply toggle the "Launch in a world" setting and select the desired world from the dropdown.
Take care when choosing the world, and keep in mind that the connection to the selected world cannot be changed after the edition contract is deployed. Self-destructing the drop will remove it from the world.
After setting and confirming your mint price, click Continue to view the presale option and schedule your drop.
Add a presale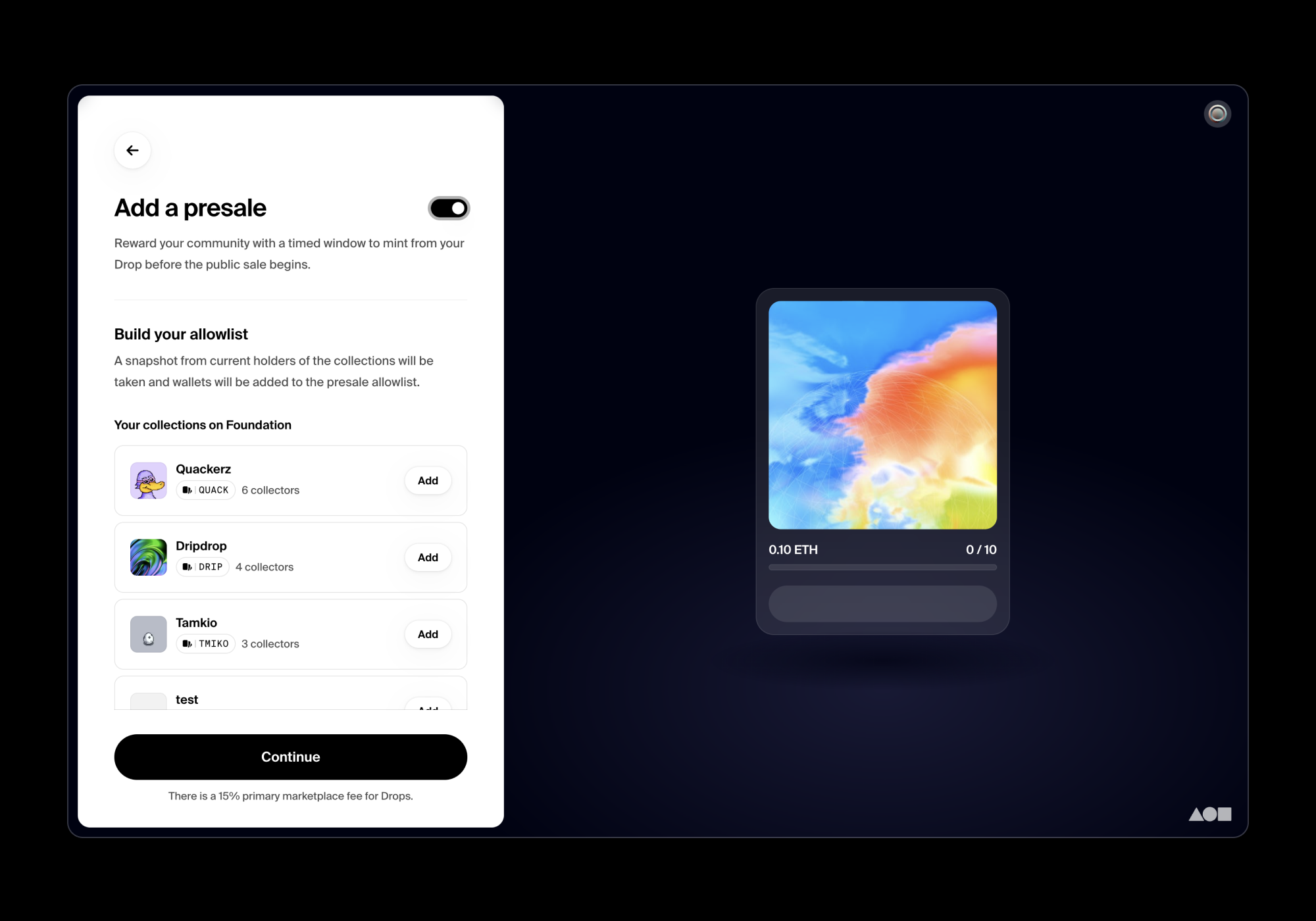 As an optional step, you can reward your previous collectors by adding a presale, which allows eligible wallets the opportunity to mint earlier than the general public. You can skip this step if you'd like your drop to mint to the public without a presale window.
Details to consider when preparing for your presale:
You can select up to 10 collections from your Foundation profile that you've created previously, including imported collections.
Collections need to be 10,000 NFTs or fewer in size.
Build your allowlist
At the time of creating your allowlist, we'll automatically fetch the current token holders and take a snapshot of the holders at that current moment in time (this rewards your loyal following and prevents bots from buying and transferring tokens to get more minting access).
To build your allowlist, add the relevant contract addresses from the available collections listed - you can also check the box for All collections if you'd like to include all previous collectors.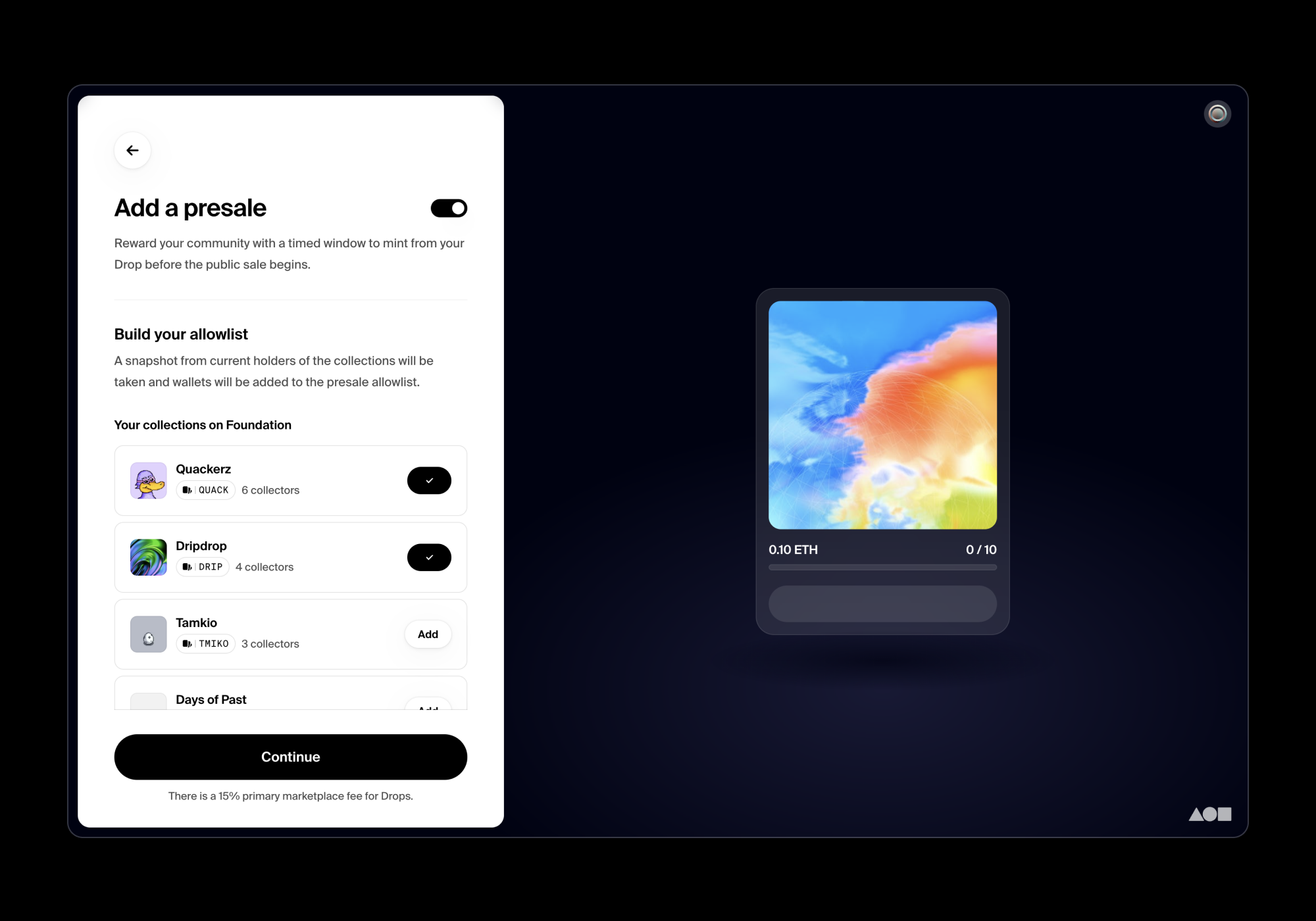 Make sure the correct collections have been selected before moving forward. Once you've deployed your contract and saved your allowlist on-chain, no changes can be made.
Schedule your drop
If you've elected to include a presale, select the date and time for the start of your presale - you can also start it immediately.
You'll select a presale duration of either 30 minutes, 1 hour, 4 hours, or 24 hours. The public sale of your drop will begin once your presale window has expired.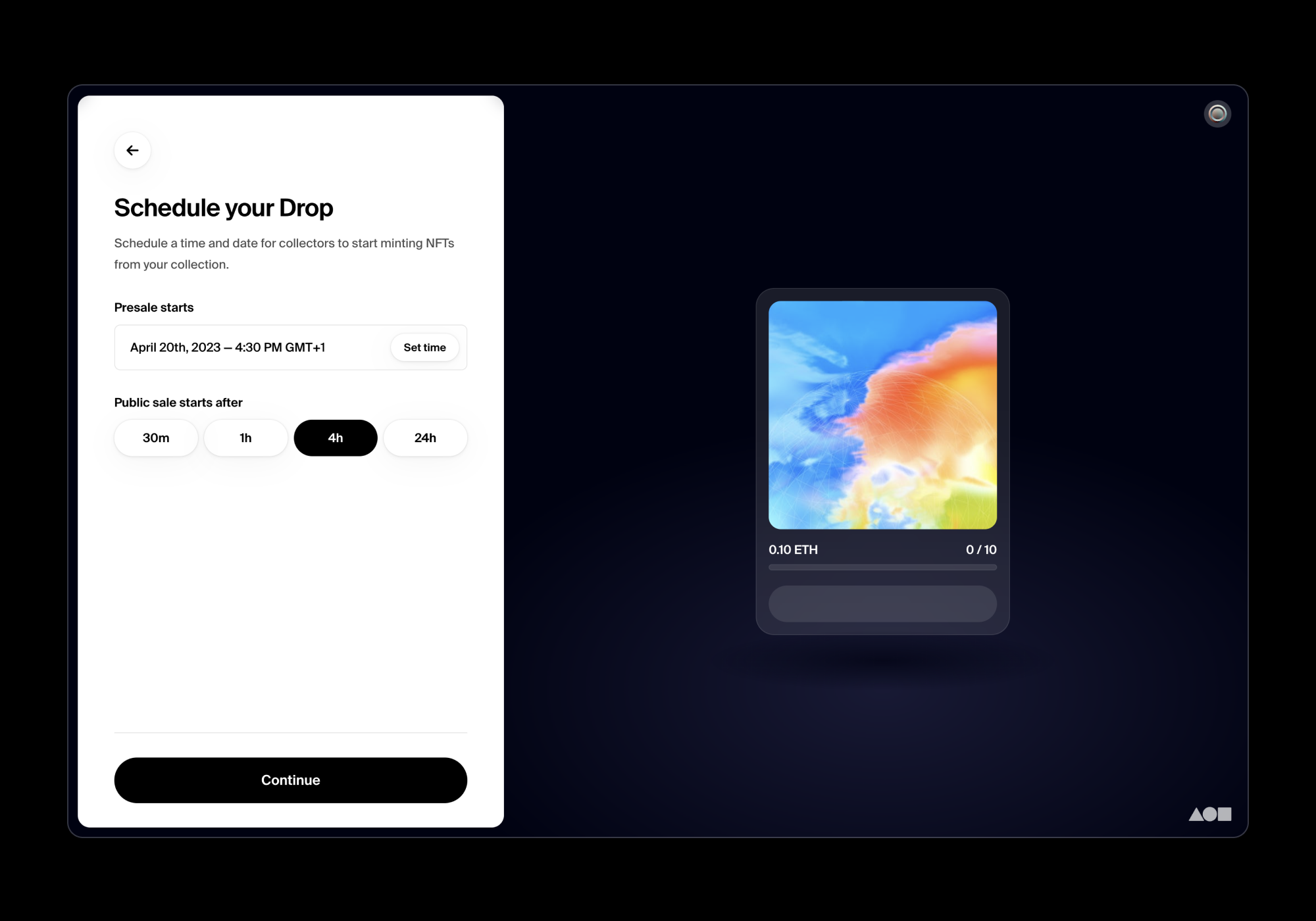 If you've skipped the presale feature, you'll select the start time for your drop to be open to the public for minting. You can also start it immediately.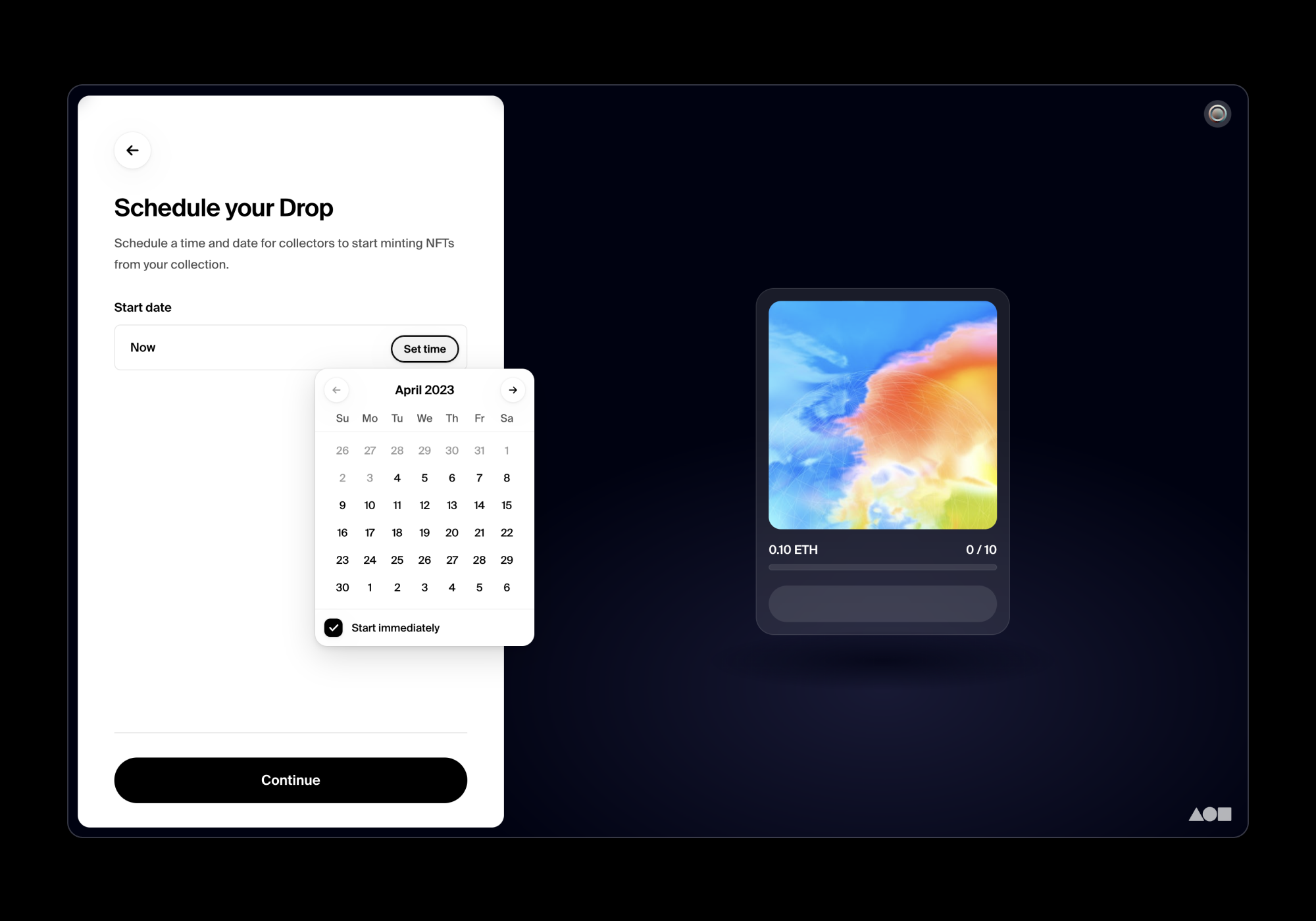 These details cannot be changed after deploying your contract, so you'll want to confirm the date and time that your drop will begin minting.
Once confirmed, click Continue to review your drop details.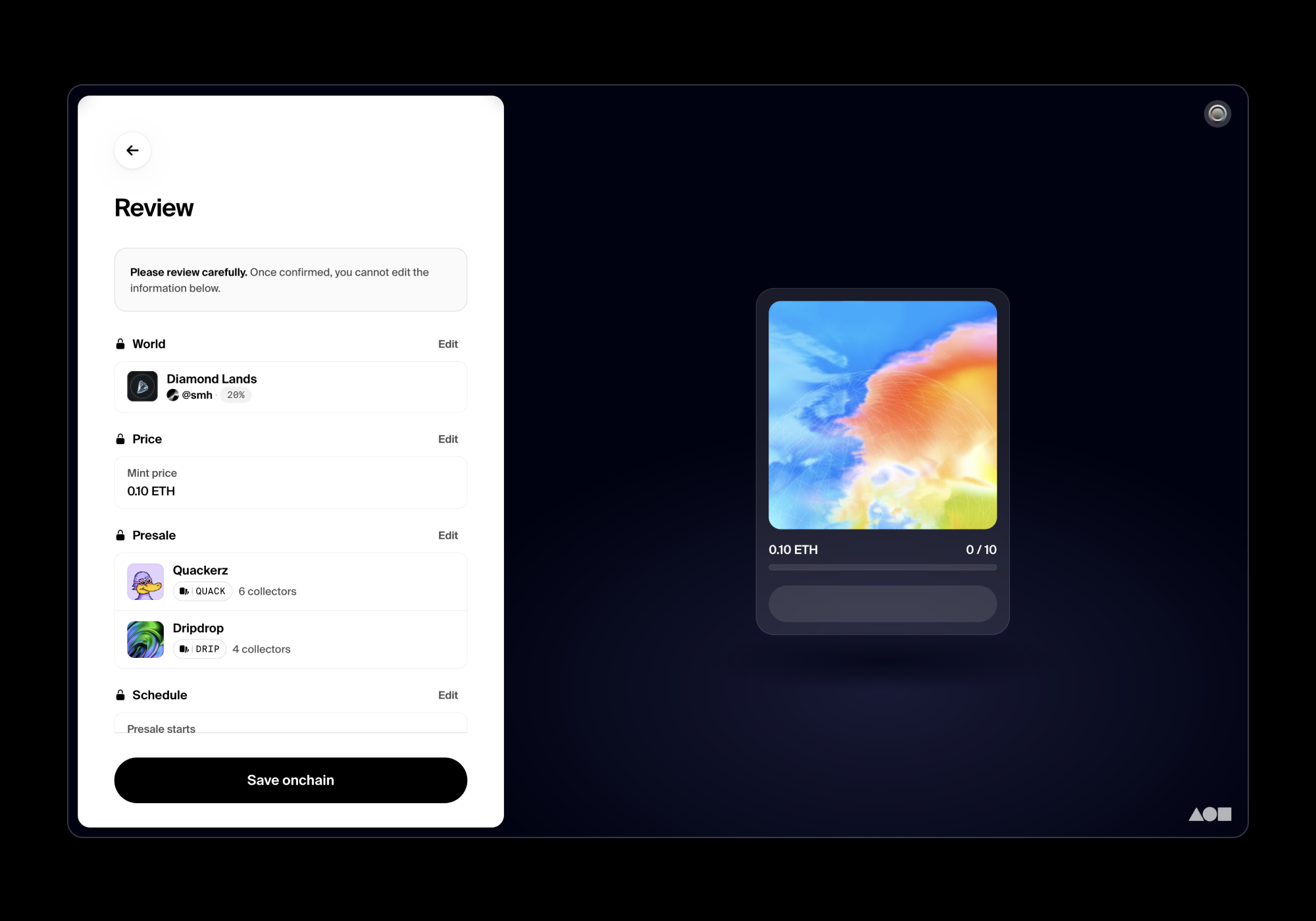 Click the "Save onchain" button.

Approve the Gas fee: A message will appear within your connected wallet for you to approve the gas fee to start your drop.
Gas fees are the cost of interacting with the Ethereum blockchain. Gas fees are not set or collected by Foundation.
Your drop is now scheduled or ready for minting! We'll send an email to all of your followers on Foundation to let them know your drop is scheduled or starting.
Customize your drop page


Once your drop is deployed to Ethereum, it will be represented with its own page on Foundation that you can access from your profile. Add a collection logo, cover image, and description to make your drop landing page stand out! You can also edit the drop URL. This information on your drop page can be edited at any time.
Logo. This is the image representing your drop.

Recommended Spec: 1920 x 1920 JPG, PNG, or GIF. 10MB max.

Cover Image. This is the image at the top of your drop page.

Recommended Spec: 2800x2000 JPG, PNG, or GIF. 10MB max.

Description. This is where you can describe your drop in more detail.

Recommended Spec: Use 500 characters or less.

Collection URL. This is the URL of your drop, and you can use this link to share your drop with others.
You've now successfully created your Drops contract, scheduled your Fixed Pricing, and customized your drop page. We now recommend you start building awareness, growing your community, and telling the story of your work.
Now that your drop is ready or scheduled for minting, it's time to start preparing for the reveal. There is one key date to prepare for moving forward: Your reveal date.
The reveal date is the date that your drop's final assets will be revealed to your collectors.
For the final assets, keep in mind that Foundation has a file size upload limit of 50 MB, and we currently support JPG, GIF, PNG, SVG, MP4 + MOV files.