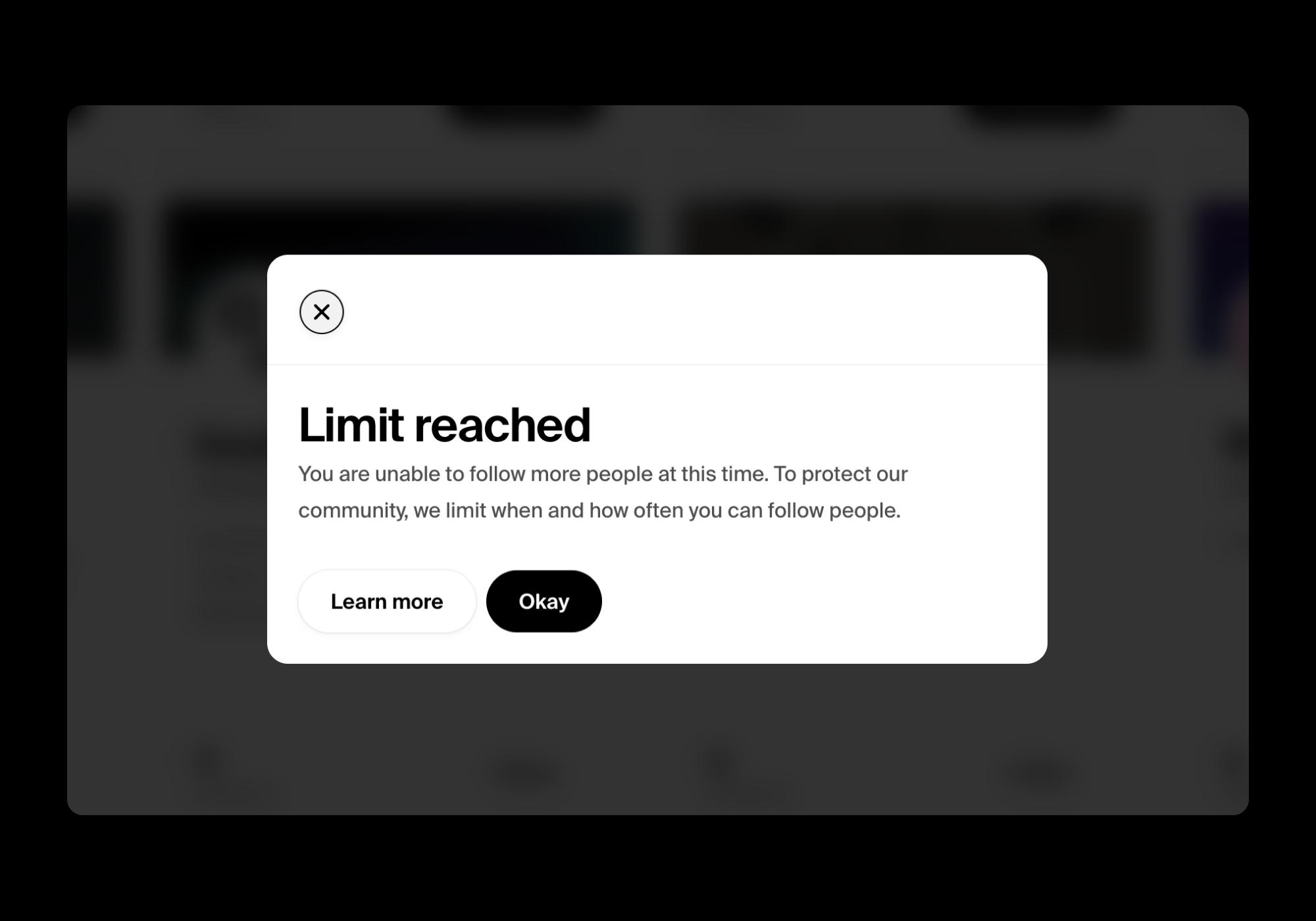 If you've encountered this message, don't worry - you aren't the only one. Foundation is committed to providing a safe and positive experience for all of our users. These follow limits are designed to help bring attention to a smaller group of creators, and to reduce notification spam. Most of the time, these notifications are nothing to worry about, but to help you navigate and avoid this message in the future, we've provided some helpful insights.
Foundation's current follow guidelines
Maximum follows:

The new limit is 5k. After you reach this limit, you cannot follow any more users, but if you find a new user you like, you can always unfollow a different user to make room.

Spam follows:

Any time someone follows and unfollows a single user repeatedly, this creates unnecessary notifications, and in some cases, could feel like harassment. To try and avoid this, we ask all

Foundation users

to be mindful when hitting the follow button.

Time between follows: Following or unfollowing a large number of accounts over a short period of time may result in a temporary inability to follow a new profile.
Bot follows:

Foundation has a zero tolerance policy on using a bot to follow profiles. When caught, this will result in a profile suspension.
Following profiles on Foundation is an excellent way to stay up-to-date on your favorite artists' activity. Abusing this system, however, can result in profile suspension, removal of follow permissions, or a ban. To avoid this, take a look at the following tips.
Take your time when following profiles. It's always best to follow profiles you really love and want to see more of.

Try and only follow profiles that you want notifications from. This way, you only get the information from the creators and collectors that matter most to you.

Do your best not to unfollow and follow the same profile multiple times. Accidents happen! But it is not OK to use the following system to harass someone on Foundation.
These guidelines are here to protect you and the other users on the platform. Follow users that you care about and expand your community here on Foundation.