On Foundation, there are multiple options for selling your NFTs—and ultimately getting paid: Buy Now, Offers, and Reserve Auctions.
You can use these features in parallel, meaning any NFT can be simultaneously listed as a Reserve Auction, have a Buy Now price, and receive Offers on Foundation. Mix and match until you find which technique works best for you.
Here's a brief overview of when you should consider using each:

Buy Now:

Set a Buy Now price to encourage anyone to acquire your NFT—instantly.

Offers:

All your NFTs will be available for Offer on Foundation. If a buyer comes in with a decent offer, it might be worthwhile to accept it.

Reserve Auctions:

List your NFT in a Reserve Auction, sit back, and wait for a collector to kickstart an exciting 24 hour countdown where the highest bidder wins.
What's more, all of these actions happen on-chain: buying an NFT, making an Offer, and bidding in an auction. Foundation's web3 marketplace is all on-chain—this secures your funds and ensures payment for every sale. All transactions are recorded on the blockchain to preserve the utmost provenance for creators and collectors. Every on-chain interaction requires a gas fee—but if it's not on-chain, it's not web3.
Buy Now allows you to set a fixed price for the sale of an NFT you have created or collected. Once the right buyer comes along, the sale is immediate and you earn ETH for the NFT instantly.


How to set a Buy Now price:
Find the NFT you'd like to sell.

Click "Sell NFT".

Type in the price that you want to sell the NFT for. (Buy Now prices and history are made public on Foundation.)


Confirm the transaction in your wallet and pay the required gas fee.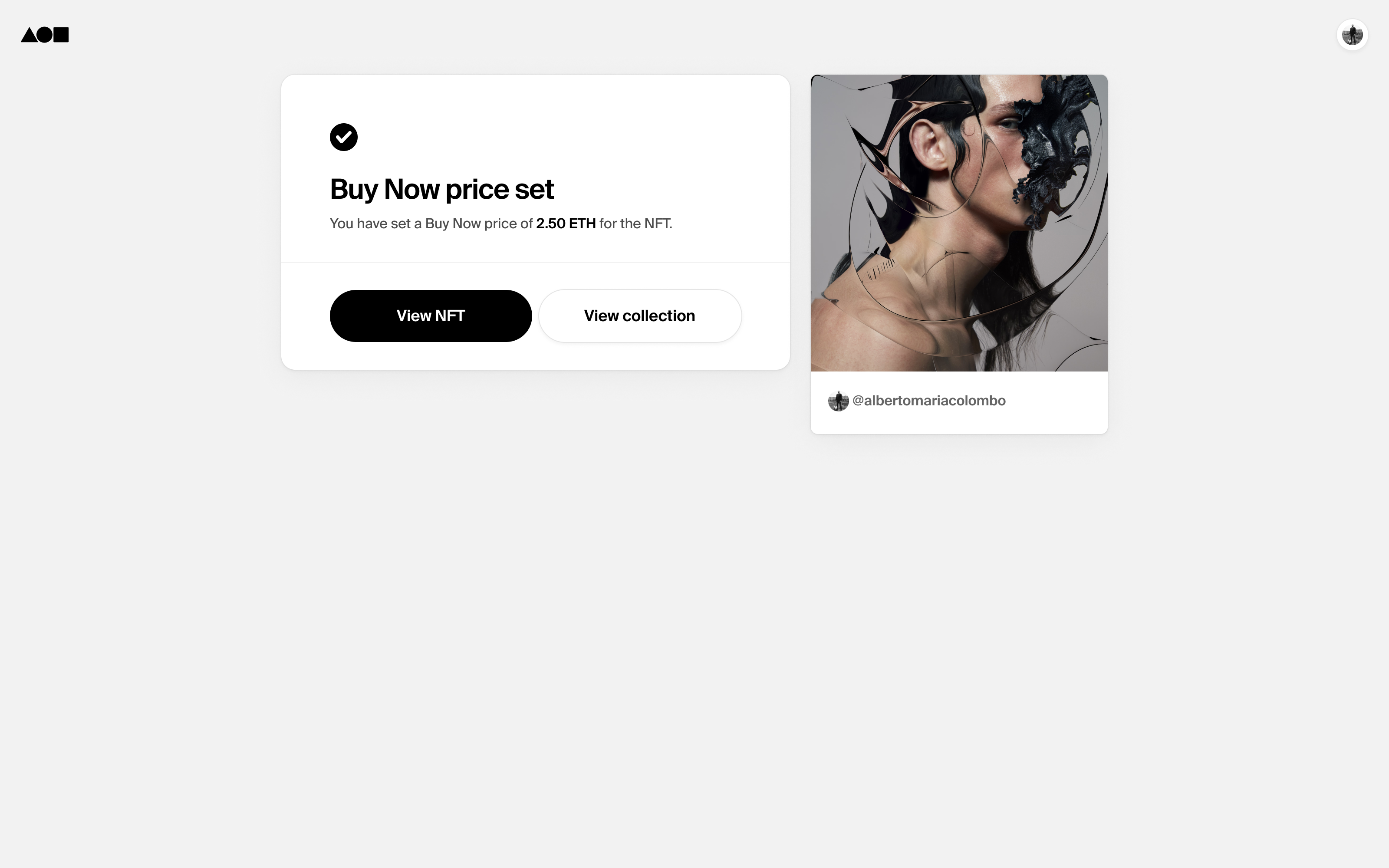 Once you've set a Buy Now price, your NFT will be secure in the Foundation Marketplace contract until it's sold.
Any collector can purchase the NFT to have it immediately transferred to them—and you'll instantly receive the ETH for the sale.
On Foundation, all Offers are on-chain transactions. At any time, prospective buyers can make an Offer on any NFT you have created or collected. Similar to Reserve Auctions, Offers have a 24-hour countdown window before they expire. Once you receive an Offer, make sure to accept it within this timeframe.
You don't have to take any additional steps to set up your NFTs for Offers. All NFTs on Foundation can receive Offers, even while they're being auctioned, or if they have a Buy Now price.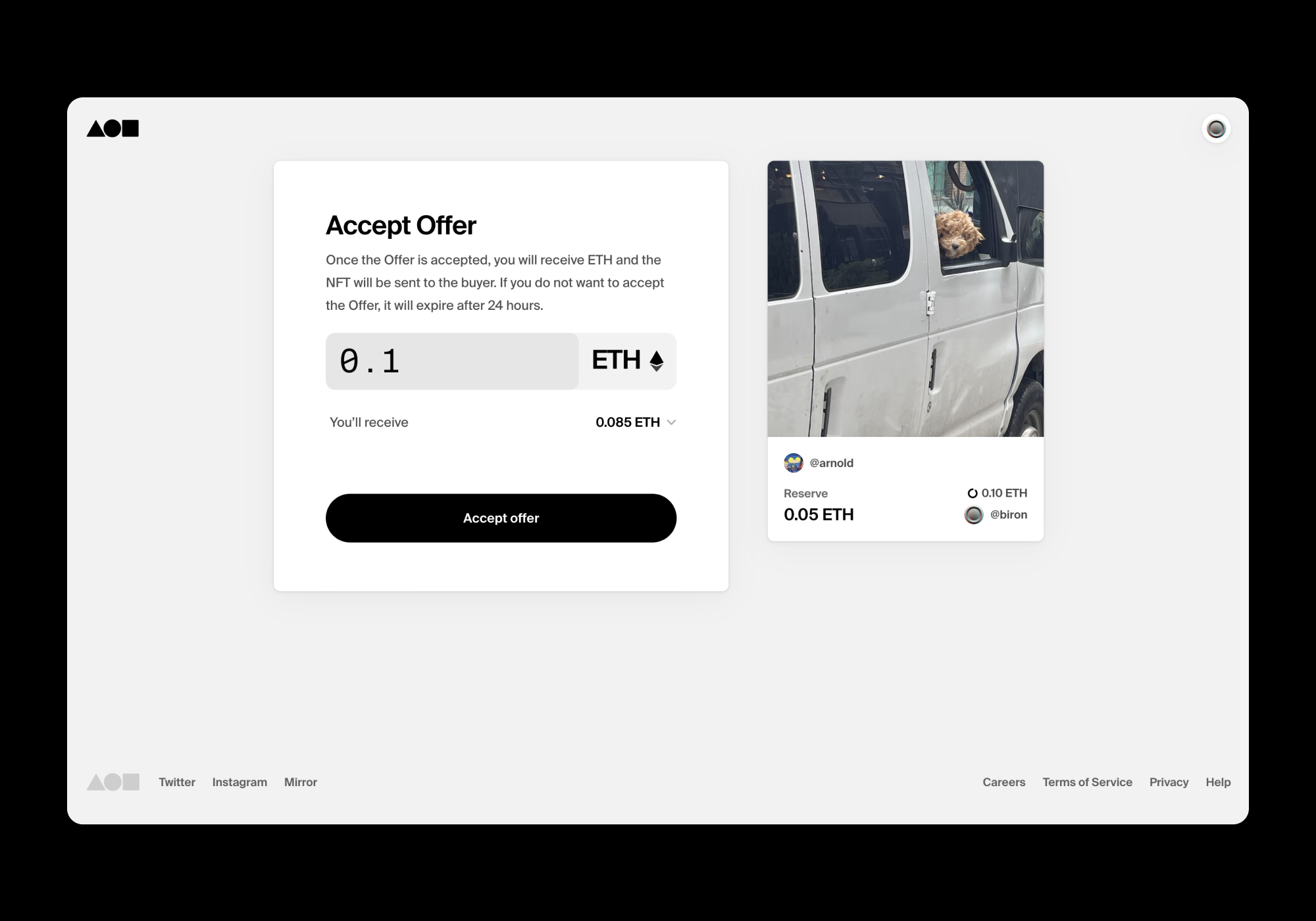 How to accept an Offer:
Click "Accept Offer".

Confirm the transaction in your wallet.

That's it! The NFT will be transferred to the buyer, and you'll receive your ETH.
If you don't want to accept an Offer, just wait until the clock runs out.
What happens if an Offer expires?
When an Offer expires or a higher Offer is placed, a refund will be sent to the prospective buyer's Marketplace Balance.

Once you've minted your NFT or successfully collected one that you'd like to sell on the secondary market, you're ready to list it for auction.
To begin, set a reserve price—the minimum amount of ETH you'd be willing to accept for an NFT. All bids must meet or exceed this amount. Reserve prices and bidding history are recorded on-chain and made public on Foundation.

How list your NFT by setting a reserve price:
Find the NFT you want to list for auction.

Click the "Sell NFT" button.

Type in the minimum amount that you would accept for the NFT.

Approve the auction contract in your wallet.
Once you've listed your NFT for auction, it will be secure on the Foundation Marketplace contract until the auction has been settled on-chain.
What happens when an auction starts?
Once the reserve price is met, a 24-hour countdown for the auction begins. For each bid placed within the final 15 minutes, the countdown timer will reset to 15 minutes until no further bids are received. An auction ends when the countdown finishes.
The auction must be settled on-chain, so the collector receives the NFT, and the ETH is deposited into your wallet.
Tips for setting a reserve price: The best reserve price is the minimum amount you're happy to accept for a sale, regardless of whether more bids come in throughout the auction.
Set a reasonable reserve price:

Listing at an approachable reserve price is more likely to encourage an auction to kick off, but if you're willing to wait for your first bid, consider setting a higher reserve price.

Do your market research:

Explore the community's sales history and see how other creators set their reserve prices and what strategies work for them.
Once an auction begins, you won't be able to update the reserve price, nor cancel it, so make sure you set the price correctly.
Now that you're up to speed on the many ways to sell NFTs on Foundation, give it a go and learn which method works best for you. → foundation.app