Collecting is a great way to connect with art that speaks to you and engage with the work of visionary creators. You can even earn ETH and recognition for your taste by getting paid when you sell a work on the secondary market. It's also a chance to invest in the careers of experimental artists whose work you admire. It's a win-win.
There are currently four ways to collect: Buy Now, Offers, and Reserve Auctions.

Here's a brief overview of when to consider using each:

Buy Now:

With Buy Now, you can instantly acquire the NFT of your choice.

Offers:

All NFTs are available for Offer on Foundation. If you are eyeing a piece but don't want to try your luck in an auction, make an Offer.

Reserve Auctions:

Kick off a 24-hour auction by meeting its reserve price, or bid on an NFT in an active auction before the timer runs out.
On Foundation, anyone can collect NFTs—all you need to do is connect your wallet. Learn more about how to set up a wallet and send ETH to it.
Now, let's go through all of the ways you can start collecting work!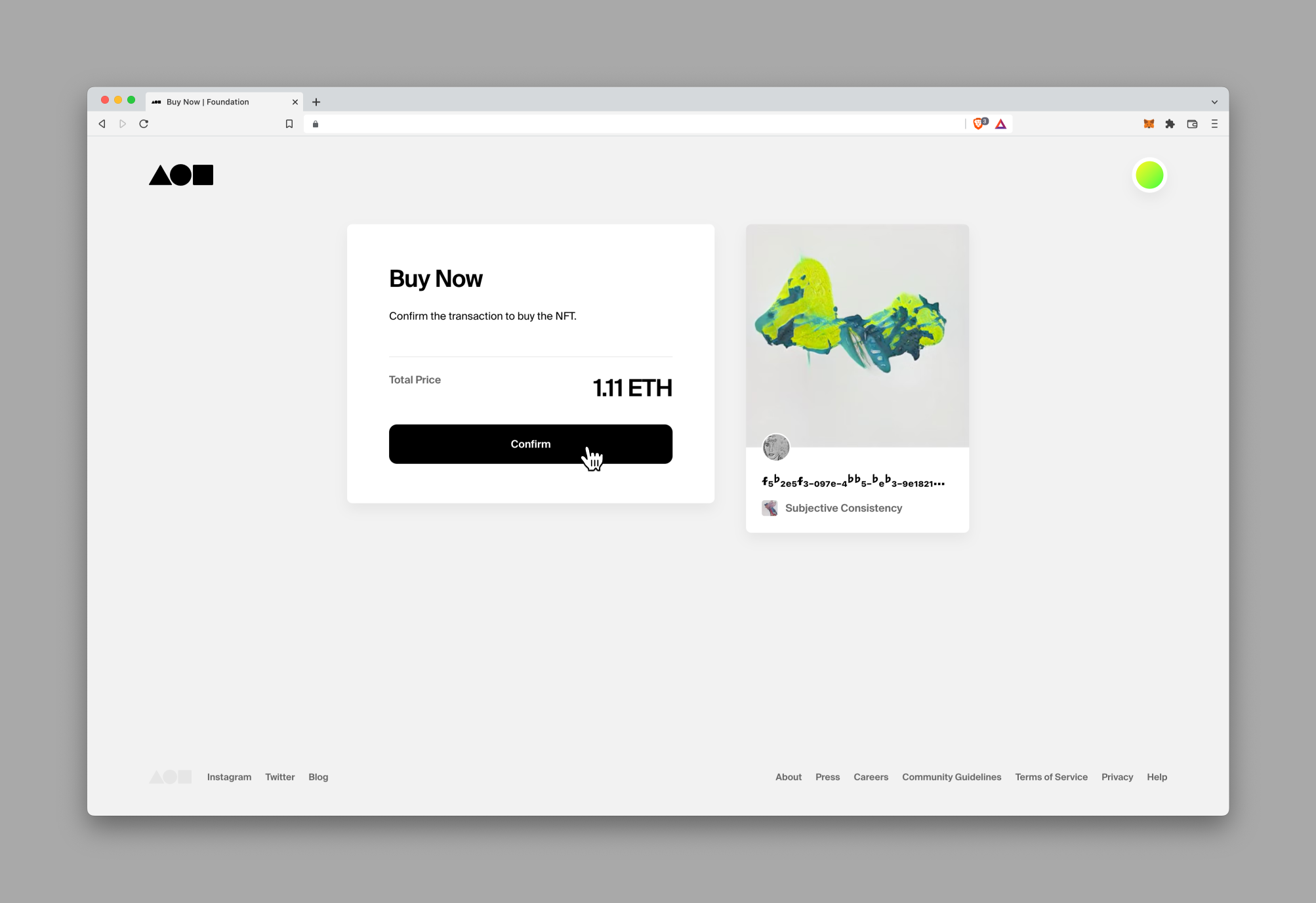 With Buy Now, creators and collectors can choose to set a fixed price to sell their NFTs. On Foundation, Buy Now prices are recorded on-chain.
How to use Buy Now:
Navigate to the NFT you'd like to purchase and click the "Buy Now" button.

Confirm the transaction in your wallet.

Pay a

gas fee

to acquire the work instantly.
That's it.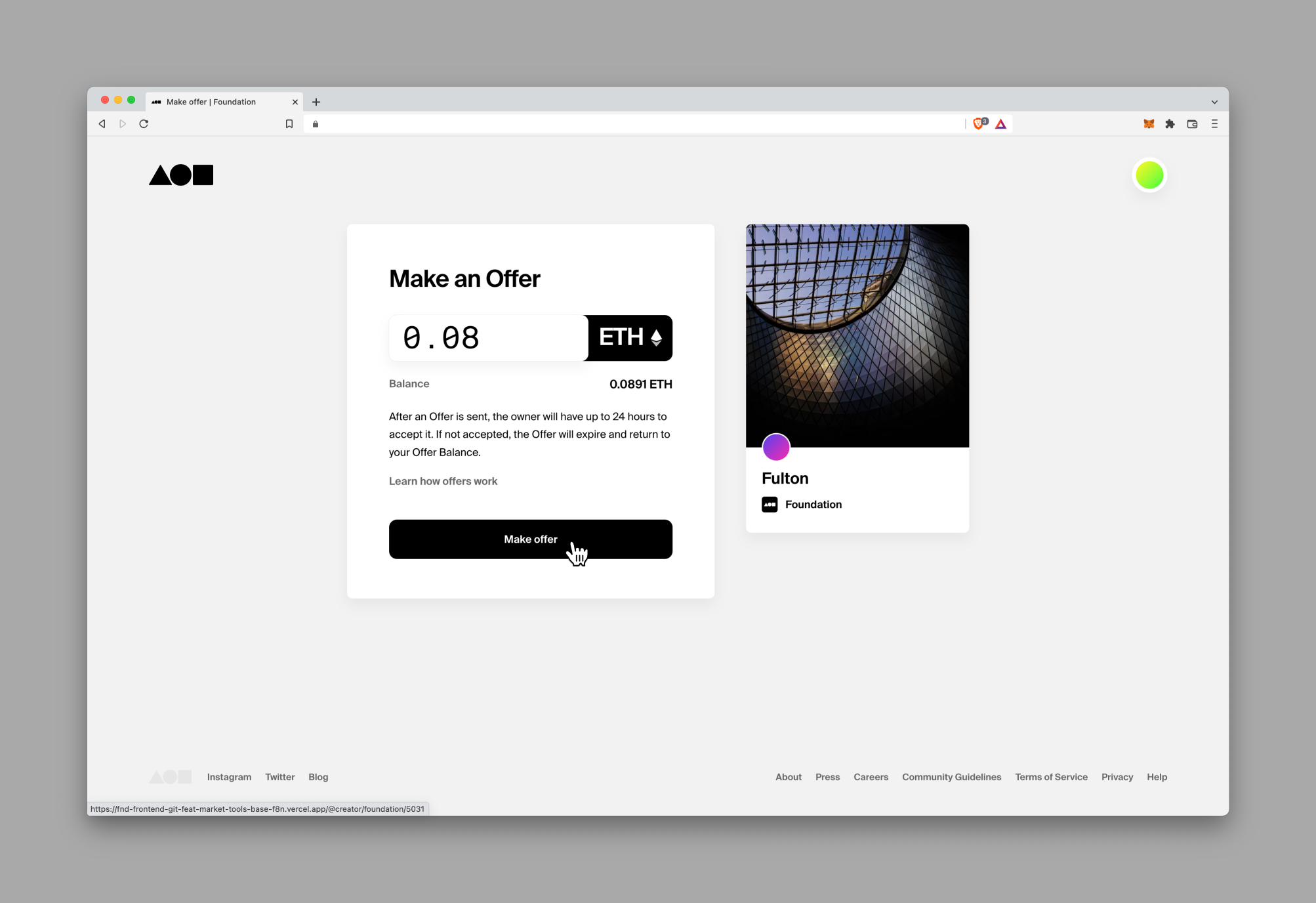 All NFTs on Foundation are available for Offers. Offers are made through on-chain escrow on Foundation, meaning strong guarantees for both buyers and sellers. So when you accept an Offer, it's real—the ETH is yours. If your Offer is accepted, the NFT is yours.
How to make an Offer
Navigate to the NFT you'd like to purchase and click "Place offer".

Type in the Offer amount you would like to pay for the NFT in ETH.

Confirm the transaction in your wallet and pay a gas fee to place your Offer.
The funds are taken from your wallet and placed in Foundation's escrow smart contract when the transaction is completed.
Offers automatically expire after 24 hours. If either party decides not to proceed with the Offer, just wait for the timer to run out. If the creator or seller accepts your Offer, the NFT is yours—congratulations!
What happens when my Offer expires?
If the creator or seller does not accept your Offer within 24 hours, the amount will automatically be refunded to your Marketplace Balance. You'll then be able to convert your funds to ETH by clicking on "Marketplace Balance" in your profile dropdown.
Learn about your Marketplace Balance.
The two main components of a Reserve Auction is a reserve price and a countdown timer. A creator or seller sets the reserve price for the NFT they want to sell. If you find a work that you want to acquire at auction, placing the first bid will kick off a 24-hour countdown timer.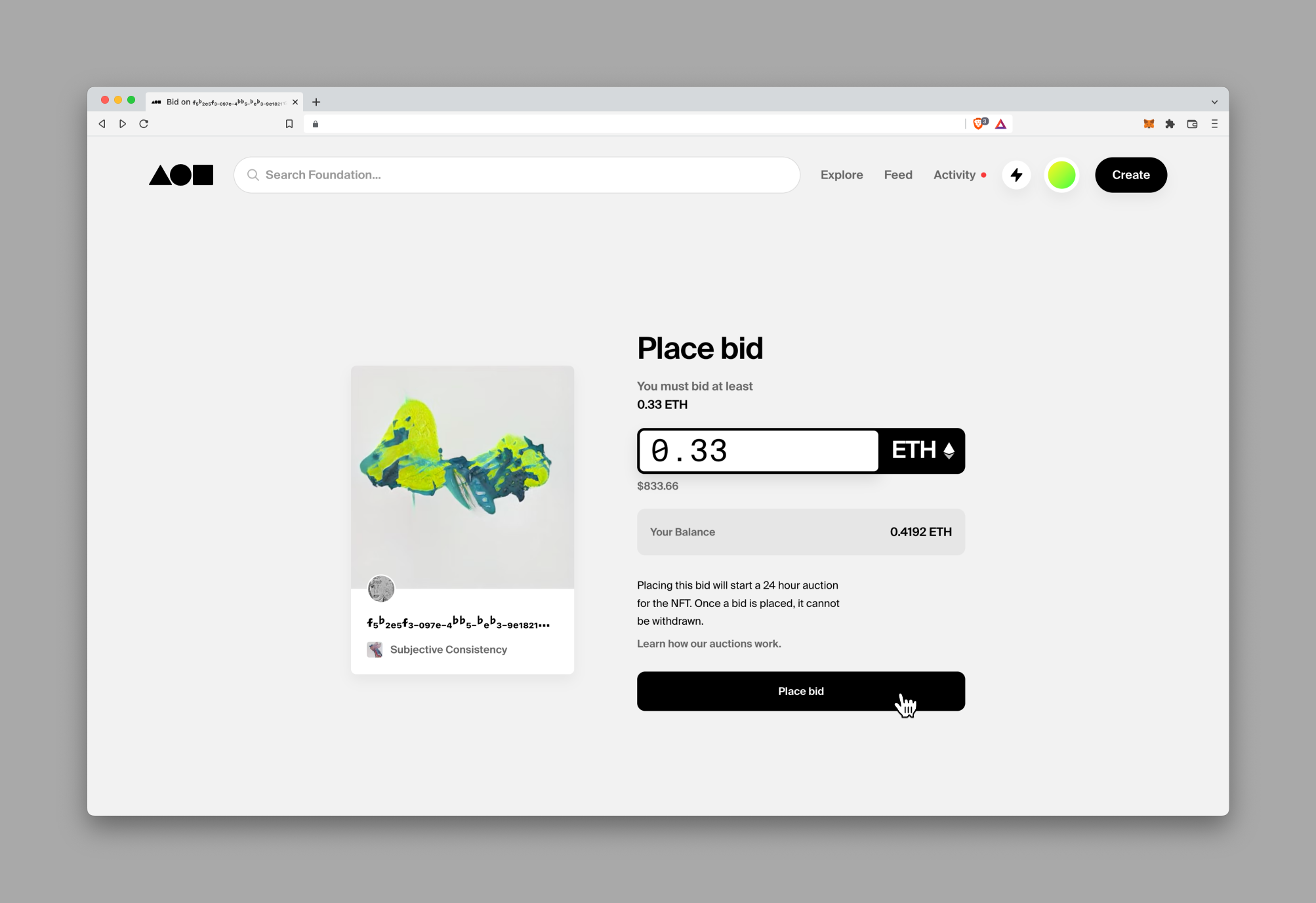 To participate in Reserve Auctions on Foundation, you'll need to have enough ETH in your wallet to place bids and pay for gas fees.
How to place a bid in an auction:
Navigate to the NFT you would like to collect and click "Place a Bid".

Enter the ETH amount for your bid. If you're the first to place a bid, your bid needs to meet or exceed the reserve price set by the seller.

Click "Place Bid".

Confirm the transaction with your wallet and pay a gas fee to complete the process.
Bids are not incremental - the amount of your bid will be shown as the current bid on the auction.
An auction comes to an end when the 24-hour countdown has run out of time.
For each bid placed within the final 15 minutes of the countdown, the countdown timer will reset to 15 minutes until no further bids are received. If you're the highest bidder when the countdown runs out—congratulations! You've won the auction.
How to settle an auction:
It is Reserve Auction etiquette for the winning collector to settle the auction, which adds the NFT to their wallet and the seller receives the ETH for the sale.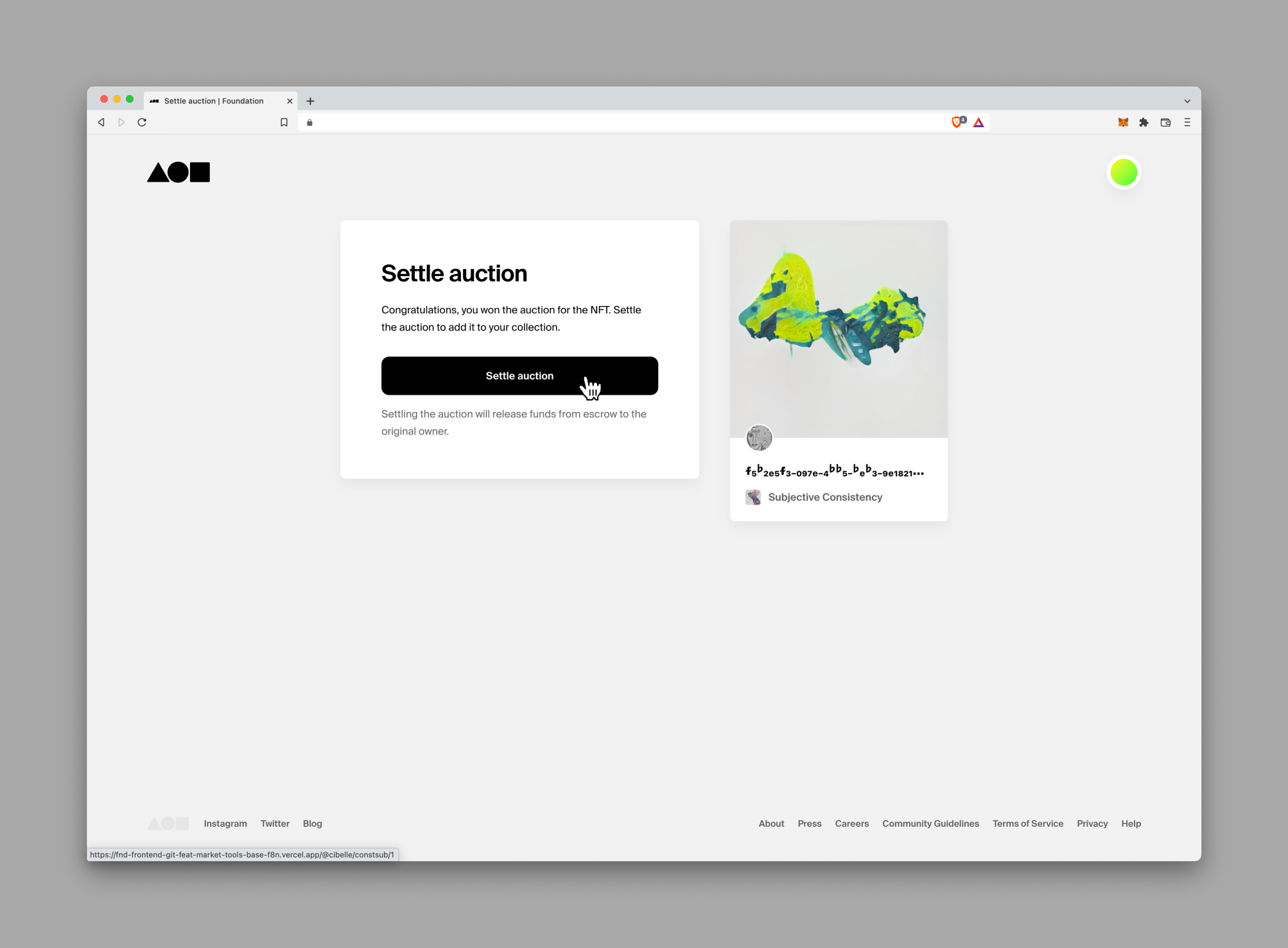 Go to the "Activity" page or the "NFT" page.

Click the "Settle the Auction" button.

Confirm the transaction in your wallet.

Pay the gas fee required to settle.
Now that you know the many ways to collect NFTs on Foundation, learn which method works best for you. → foundation.app